In this new edition, to be held between 10th and 13th December, students will share and debate their ideas and arguments around a topical issue: Is the fight against gender-based violence a priority for Spanish society?
The ULPGC Debate Society and the ULPGC Social Council have opened registration for the Gran Canarian university's students to participate in the 13th ULPGC University Debate League. This will take place between 10th and 13th December in the ULPGC's Economic and Business Studies building on the Tafira Campus.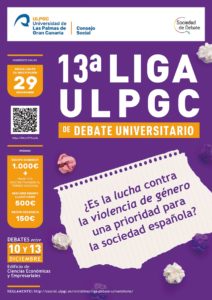 During this new edition, the second to be organised in 2019, participating teams will debate and argue dialectically on a fresh topical issue: Is the fight against gender based-violence a priority for Spanish society?. Teams should be registered through the ULPGC Social Council website: press here, where there is a form which should be completed by all members of the team and the competition rules by which this league will be governed. Registration is open until 29th November.
The ULPGC University Debate League is part of the ULPGC Debate Society and is an initiative which began over ten years ago. The main aim of the league is to promote dialogue and public debate among the university's students, with the aim of promoting the development of speaking, dialectic and debating skills, along with critical thinking. These skills have become the cornerstones and overarching themes of the academic education received by students.
Of the Spanish public universities, the ULPGC has held the largest number of Debate Leagues. The philosophy and organisation of the Debate League are based on the models employed in the world's best universities. They also respond to the need within the academic sphere to improve the ability to work in a team and the personal skills of research, oral expression, and timely response.